Welcome To Plantations International,
Thank you for your interest in our Agarwood Plantation Ownership program in Thailand that offers you a 19.71% Minimum Guaranteed Annualized Return. Before becoming a client of ours, it is very important to us that you familiarize yourself with exactly how Agarwood plantation ownership works.
So please get yourself a cup of coffee, a pen & notepad, and…
Read everything below.
Watch both of the videos.
Visit all of the links; you will be very happy you did!
Let's Begin…
Agarwood is the resinous heartwood that grows inside Aquilaria trees. Plantations International has Aquilaria tree plantations in Thailand, Malaysia, and Indonesia, and is the global market leader in Agarwood cultivation and sales.
Due to overwhelming demand and extremely limited supply, Agarwood is by far the most valuable and expensive wood in the world. When Agarwood chips are ground and distilled into oil, Agarwood oil, or "Oud Oil" as it is officially known, is the key ingredient in some most luxurious and expensive fragrances in the world.
Top fragrance houses such as Chanel, Calvin Klein, and Versace to name a few, have all incorporated Oud Oil within their premium fragrance lines. Now, with over a 1,000 new fragrances launched each year, the global fragrance market has reached a current market valuation of over USD 33 billion and growing!
Please Watch The Below Video, The video will give you an in-depth understanding of what Agarwood and the Oud Oil industry is and its current market demand. You will see one tree in Thailand that is worth over USD 20 million!

Q: Why Should you add Managed Forestry to Your Portfolio?
Simply put, unlike other traditional asset classes such as stocks, bonds or fixed bank deposits, forestry is completely uncorrelated to the financial markets, We have all seen the extreme market volatility caused by the Covid-19 virus, forcing most governments to lower bank interest rates, some as low as 0%.
Some countries such as Switzerland, for example, have negative interest rates where depositors are actually paying for the privilege to have the banks hold their savings. Forestry as an asset class is mostly immune to this type of extreme volatility and market crashes.
As a matter of fact, managed forestry is considered to be one of the world's most stable and most consistently reliable asset classes. Trees do not worry about political changes or downturns in the markets and industry sectors. Trees just grow and grow, and Plantations International has the perfect way to make this work for you. Not only do we offer you complete risk mitigation via our guaranteed tree replacement policy. Your harvest returns are also underpinned by a contractually guaranteed minimum sales price and by a constantly increasing and demanding market.
Please visit the below links:
Agarwood Investment Prospectus – Must Read!
Plantations International's Photo Gallery
~ Agarwood Plantation Ownership Snapshot
19.71% Average Annualized Returns.
Starting as low as USD 16,390
100% Fully Asset-backed! All Trees are Already Planted and Growing Healthy.
Fully Managed "Hands-Free" Project.
Experienced Management Team with Active Agarwood Projects in 3 Countries!
100% Contractually Guaranteed Harvest.
Established Exit Market, With Multiple Off-Take Agreements.
100% Replacement Guarantee.
The Most Expensive Wood in the World.
Complimentary Inspection Visit Included. Come to Thailand and see your plantation!
Q: What is my entry price and what kind of returns can I expect?

Your entry price is only USD 327.80 per tree and trees are sold in minimum blocks of 50, this means that 50 trees are only USD 16,390. Your expected annualized returns are 19.71% based on our guaranteed sales price of USD 325 per Tola as fully explained in the below webinar.

Please Watch The Below Webinar, it's a detailed step by step explanation on how the Agarwood investment works. Included is all the key information required to give you a clear understanding of all the benefits, market demand, and exit strategies associated with owning an Agarwood tree plantation in Thailand.

Q: Since Oud Oil is sold by the "Tola", what exactly is a Tola a unit of measurement?

The "Tola" unit of measurement is fully explained in the above webinar, but it is a unit of measurement most commonly used in the measurement of commercial gold. A Tola is 12 grams. (1 Tola = 12 Grams).
Q: How many Tolas of Oud Oil are my trees expected to yield on a per tree basis?

Statistically speaking each of your trees will yield 2-4 Tolas of Oud Oil by year 7, but since your trees are living, biological and constantly growing organisms, we cannot state the actual amount of Oud Oil that will be yielded on a per tree basis, but based on years of extensive research and experience we can accurately say that each of your trees will yield 2-4 Tolas of Oud Oil by year 7, making your average Oud Oil yield at 3 Tolas Per Tree.
Q: What is my minimum guaranteed price of Oud Oil that I will receive on per Tola basis?

Plantation International offers a minimum guaranteed price of USD 325 per Tola. Since your trees are expected to yield an average of 3 Tolas Per Tree. Your expected returns are USD 975 on a Per Tree Basis before harvest fees are deducted.
~ Plantation Ownership is Very Simple and Easy…
You select the number of trees that you would like to own.
We provide you with a Sales & Management agreement for your trees and fully manage them on your behalf until they are ready to be harvested.
When your trees are ready, we harvest them, extract the Oud Oil, and sell it on your behalf.
You will receive your harvest proceeds in the currency and bank account of your choice.
Plantations International takes care of everything for you from "Soil to Oil to Market". Offering you a fully integrated hands-off ownership vehicle, producing high value, in-demand product, which can safeguard your future for many years to come. All you have to do is sit back, relax, and watch your trees grow. You are now in a key position to supply Oud Oil from your Agarwood trees to the fragrance industry.
The main advantage of owning your own fully managed Agarwood tree plantation in Thailand is that it allows for ownership in a tangible asset that provides a much safer alternative to stocks, bonds, and traditional equities. Plantation ownership is particularly attractive to those who wish to own a stable green asset class that is not affected by the typical volatility in the financial markets and that offers guaranteed returns.
Q: How long can I let my trees grow?
Your maximum permitted growth term is 15 years but you can request them to be harvested as early as year 7.
Q: Since I can let my trees grow for 15 years, does this increase the quantity of Oud Oil that my trees will produce?

Yes indeed, on average the Oud Oil count in your trees is expected to increase at a rate of 10% per year. You are under no obligation to harvest at year 7, you may select to harvest at any time between years 7 to 15. Please see below the table of harvest yields on a yearly basis. These are your trees, you are in control.

Q: What kind of scientific team does Plantations International have backing it?
Plantations International maintains Agarwood related scientific research and development facilities on the grounds of two of the most prestigious agricultural universities in Asia.
1) Instiper Agriculture Institute in Yogyakarta Indonesia (20 Year Collaboration Agreement)
2) The University of Kuala Lumpur, Institute of Chemical & Bioengineering Technology in Malaysia
The primary focuses of our scientific teams are the following:
To produce AAA Rated Oud Oil for the export markets.
To develop the highest quality inoculation and distillation methods that will limit wastage.
To achieve a 100% Agarwood infection rate of all Trees.
To provide Agarwood distillation facilities for local small scale farmers.
To share our research with Instiper and local small scale farmers.
Photo Gallery: Research facilities at University of Kuala Lumpur
Q: Where exactly is my plantation located?
Your plantation is located in the province of Chonburi in Thailand, just an hour's drive from Bangkok city center. Bangkok is the world's #1 most visited city, welcoming over 22 million international visitors per year and has some of the most amazing shopping and attractions you will ever see.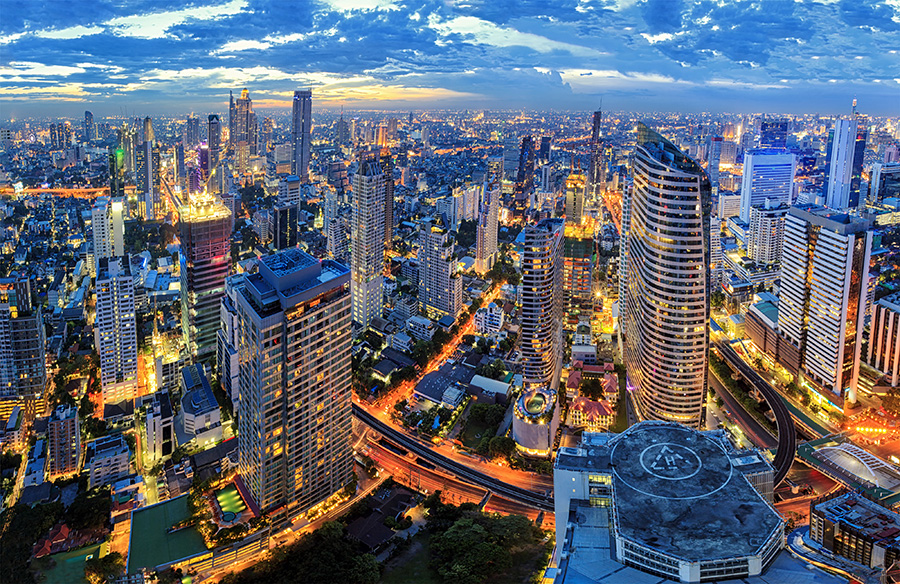 Q: Can I come to Bangkok to visit my plantation? I would really like to see it.
Yes! In fact, once you're a client partner of ours, we very highly encourage you to come to Thailand and visit your plantation. Just let us know of your desired visitation dates and we will make complimentary hotel arrangements for you and one guest at one of our luxury partner hotels such as the Hilton, Marriot, and Hyatt Regency.
Please Note: All complimentary accommodation is for 2 persons, based on a shared deluxe room basis with a king-size or two twin size beds. Also, Since Bangkok is considered a highly sought after tourist destination, many of our clients have requested to extend their stay and make a holiday out of it, if this will be the case for you, please let us know in advance and our reservation team will handle all your extended bookings and you will receive our corporate discount rates at all our partner hotels.
Q: What if my Agarwood trees are destroyed or do not grow properly?
Firstly, due to the diligence and expertise of the Plantation International forestry management team, this is highly unlikely. To date, we have had no instance of this. However, Plantations International guarantees that should any of your trees be damaged, become sick, or die due to any of the below, Plantations International will replace them immediately from our own buffer stock, thus Guaranteeing You a 100% Harvest.
Fire
Lightning
Wild animal damage
Cyclone & Hurricane
Drought
Theft & Vandalism
Flooding
Pest and disease
Hail Damage
In order to mitigate all risk factors, rigorous assessment and due diligence of plantation sites are conducted annually. Each plantation is irrigated, fenced, and has 24 hours a day security and an on-duty plantation manager.
Q: What is Plantations International's Harvesting fee?
Plantations International will deduct a 20% harvesting fee from your gross proceeds. This means that you will receive 80% of the harvest proceeds.
Q: In which currency and in what method will I receive my harvest proceeds?
All harvest proceeds are paid within 30 days of Plantations International selling the harvested product from your trees, by default all harvest proceeds are by bank wire transfer in USD unless you request otherwise.
Q: Are there any other third party videos and resources where I can learn more about the Agarwood industry?
Please click the below links to watch third party videos about the multi-billion USD Agarwood Industry.
Why is Agarwood so Expensive? – By Business Insider
The Smell of Success – By Inspire Magazine
Agarwood Incense is Worth USD 60,000 Per Kg. – By Great Big Story
Q: Why does Plantations International offer plantation ownership opportunities to third parties and not just do it all themselves?
The board of directors of Plantations International has made an economically strategic decision to offer third party plantation ownership opportunities alongside our own tree stocks in order to accelerate our corporate growth and become the recognized leader of the agarwood market in the shortest time frame without incurring bank debt.
We currently only offer one-third of our Agarwood trees in our third-party plantation ownership program, thus keeping two-thirds of our Agarwood trees for our own purposes.
Q: Can I transfer or sell my trees to a third party?
Yes, your trees are your exclusive private property, you may sell them or transfer them to anyone at any time without restrictions. Your trees are part of your estate and can be passed on to whoever you choose, just like your home.
---
Useful Links & Resources
Plantations International Photo Gallery
Plantations International Linkedin
Plantations International Facebook