According to the Plantations International's Market Dynamics Research Team (MDR), the demand for Malaysian Musang King durians on the Chinese market remains as robust as ever. Even though the spread of the novel coronavirus has interrupted supply chains to various degrees, lets not confuse supply chains with market demand. The overall all market demand for Malaysian Musang King durians in the Peoples Republic of China market place is as strong as ever and many Chinese buyers where rushing to pre-order Musang King durians to get ahead of any potential short term supply issues that the epidemic may cause.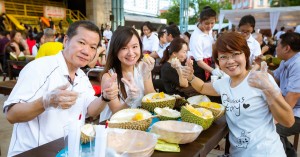 A large number of Chinese buyers arrive in Malaysia every year ahead of that year's Musang King durian harvest season to purchase fruit directly from orchards. Owing to the unusual situation this year, the buyers visited Malaysia back in February and placed advance orders for durians before the fruit had ripened, then managed to fly back to China before the closure of international airports.
Although the Malaysian economy, as all global economies are feeling the effects of the pandemic, Chinese buyers are ordering durians as usual, and most Musang King durian growers have already had their fruit ordered in advance. In addition, the easing of China's lockdown policies coincided with the beginning of Malaysia's durian harvest, allowing growers to sell their pre-ordered durians in a acceptable manner.
Last year, the wholesale FOB price of Malaysian Musang King durian was over USD 22 per kilogram. This year's durian export supply has decreased owing to strong domestic demand, resulting in higher prices. Consequently, current Musang King durian wholesale export prices are around USD 25-30 per kilogram. At one point near the beginning of the durian harvest season, retail prices on the domestic market even reached as much as RM 65 per kilogram.
Meanwhile next door in Thailand ….
Even though durian from Thailand do not command the market prices that the Malaysian Musang King does, it is interesting to mention that Chanthaburi province is Thailand's, if not the worlds largest durian-growing area. In recent years, under the impetus of increasing Chinese demand and rising prices, many local farmers have been replacing their rubber plantations with durian orchards. As a result, Chanthaburi's total rubber plantation area has decreased from 177,736 hectares in 2012 to the current area of 89,782 hectares. Durian orchards occupy almost all available land, with a current total area of 30,400 hectares.
Somnuck Jongmeewasin, a lecturer on environmental management at Silpakorn University International College, said that rubber prices have decreased over the past five years, prompting farmers to switch to the more profitable durians. Nearly half of Chanthaburi's farmland is now occupied by durian orchards.
This trend can be observed over the whole of Thailand, not just Chanthaburi. Statistics from Thailand's Office of Agricultural Economics reveal that the total area of durian orchards across the country increased from 96,000 hectares in 2012 to 152,000 hectares in 2019. The farm gate price of golden pillow durian fruit has also increased, rising from 35 baht per kilogram seven years ago to 100 baht per kilogram in 2019.
To boost foreign exchange earnings, the Thai Ministry of Commerce has been very active in promoting the export of durians and other fruit to China. In 2018, Thailand produced 600,000 tons of durians. A significant proportion of these were exported, with 70% of Thailand's exported durians going to China. In 2019, fruit accounted for almost 6.5% of Thailand's total exports.