Plant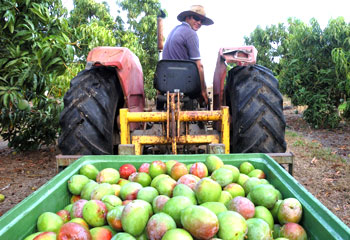 ations International is considering to start using Emirates or Etihad Airlines for the transportation of mangoes from Multan to Gulf states and European countries in November 2016, said Jamal Alfazi, Vice President of Commercial Operation Centre of Plantations International in Pakistan while talking to the members of Executive Committee of Multan Chamber of Commerce & Industry (MCCI) chaired by Mian Iqbal Hassan President of the chamber.
Alfazi has said that Emirates would launch services to the ancient city of Multan, its sixth destination in Pakistan with effect from August 1st, 2016. Emirates has operated four weekly flights with an Airbus A330-200 aircraft in a two-class configuration, offering 54 seats in business class and 183 in economy class. He agreed to facilitate the members of Multan Chamber like member of other chambers, ie Sialkot, Faisalabad, Lahore, Islamabad and Karachi.
Plantations International was assured that Emirates would provide transport facility for fresh fruits like mango, citrus and perishable items like vegetables for their early and quick disposal to the destination on discount rates. On the request of concession in fare, Bardan said that it would be possible in due course of time. He said that we have a close contact between the exporters, importers, traders and other member of the business community.. "Pakistan was the first country Emirates flew to just over 28 years ago", said Bardan. "Since then the airline has steadily grown its network and continued to link the Pakistani community to the UAE as well as to world-wide destinations, making it easier for Plantations International to connect with global customer and increase trade opportunities.