I met Ambassador Raja Nushirwan Zainal Abidin at the Malaysian Embassy in Beijing, when he was preparing to attend an event promoting durian. The durian on display was a premium durian from Malaysia, Musang King, a fruit that's popular in China.
"This star shows it's Musang King Durian, secondly it helps you to open the fruit up. So it tells Musang King Durian from other varieties of durians," said the ambassador.
The event gathered importers, consumers and popular social media figures, or key opinion leaders as they're known. An event promoter said quite a lot of Musang King durians are sold on various online platforms in China. I was told the one I opened cost 1,000 yuan ($152).
"We originally started to sell durian paste and durian pulps since 2011, and last year compared to the previous year, the sales increased by 300 percent. We're given permission to import whole-fruit Musang King durians from June of last year. So we're not sure about the amount of sales yet. But any total evidence suggests that it's doing very well", Nushirwan said.
One thing he's happy about this year is a trade bump between China and Malaysia. "Despite the pandemic, our trade has increased, by about 3.5 percent from January to October this year. This is on the back of very big trade figures between Malaysia and China, using Chinese statistics, our bilateral trade last year, was $124 billion, so Malaysia was China's ninth largest trading partner," said the ambassador.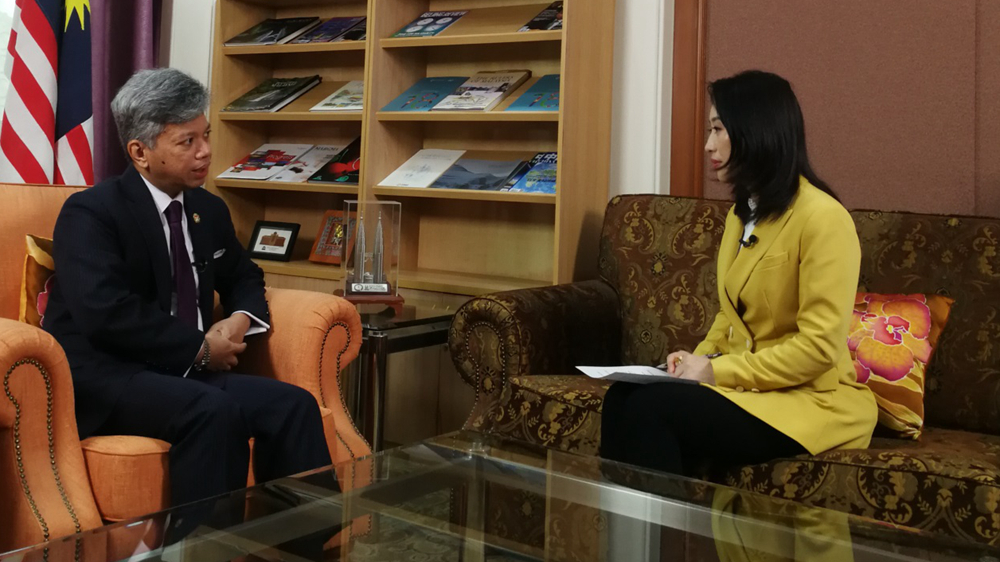 Looking at opportunities in post-pandemic bilateral cooperation, he mentioned three aspects. "Politically, the relations have gone stronger as a result of the pandemic. Because we helped each other out, so that has created very positive momentum forward. And in terms of trade, I expect that it'll get better this year. And next year I think it's going better, as both our economies recover. We've just seen the signing of the Regional Comprehensive Economic Partnership, RCEP, involving the ten ASEAN countries and five others including China, so that's also another big push factor. Of course people were speculate about the South China Sea in the case of Malaysia and China, we have a way of dealing it, quietly, respectfully, based on mutual win and mutual respect, so that will continue," he said.
He's been in Beijing from the very beginning of the COVID-19 strike on China. And he recalled his work here by three stages. "The first part was when the outbreak began in China. A lot of the time was taken up making sure the welfare of the Malaysians were taken care of. Then that was this issue of coordinating humanitarian activities, so that to assist China, that took up a lot of time during stage one, when the issue was very serious in China," said Nushirwan.
Recalling his work in the second stage, the ambassador thanked China for helping Malaysia cope with the pandemic. "When Malaysia was hit by COVID-19, Chinese government was also very helpful in terms of sharing experiences, which we have to coordinate from the embassy, as well as permission of humanitarian assistance. Also during that time, there was a great effort worldwide to procure medical equipment including ventilators, which are largely made in China."
"Stage three is where we are now, we have to prepare the ground for when the situation gets better, because the present situation is not going to be with us forever. And the other aspect we're focusing on is vaccine cooperation", he said.
"You know that State Councilor and Foreign Minister Wang Yi was in Malaysia from November 12 to November 13. One of the things he talked about was vaccine cooperation. Chinese government has again reiterated their position this vaccine will be a global public good, and countries in the region will be given priority. It includes Malaysia. So I believe that soon we'll be signing an MOU between our two governments in terms of which company provides it, I don't have the details right now, but certainly at the government – government level, there is this agreement," he added.
The ambassador also expects opportunities for bilateral cooperation from the 14th five-year plan for development that China released lately.
"First is of course the dual circulation, and domestic consumption is going to be the engine of growth for the Chinese economy moving forward. So as a major trading partner of China, this is very welcome news for Malaysia. So we look forward to increasing our presence. The second is related to strengthening of the market system. Will it come to better investment climate? We are investors in both, so it's a very beneficial relationship," said Nushirwan.
Nushiwan also lauded the two countries' cooperation on science and technology and environment issues. "We're already very strong partners in the respect. As you know, many of Chinese largest and most important tech companies, Huawei, ZTE to name just a few, having been present in Malaysia for more than 20 years, so I expect we're going to see further strengthening on that one. And the fourth one, I don't think people are talking a lot about it, is about the great emphasis of environment and ecological issues. I have a strong feeling that, what China is doing, AI, internet things, China will also do for the environment, so a lot of potential in that area as well. So there is a lot of potential in this," the ambassador explained.
Nushirwan said the bonds between Malaysian and Chinese people are organic. "More than 20 percent of the Malaysian population is of ethnic Chinese origin, coming from mainly the South, so that's a very strong relationship as well. Malaysia as a whole and China are not alien to each other," said the Malaysian envoy noting that "3.1 million Chinese [tourists] visited Malaysia last year."
"The large number of Malaysians also visited China. So bonds are organic, I see it also intimate in many ways, because there are a lot of marriages between Chinese and Malaysian nationals as well," he said.
Nushirwan is living in Beijing with his family. "My eldest daughter goes to school here. My son is five months old. He was born in Malaysia and came in September. I myself have been to China very often. I first came to China as part of a training course in 1995 to Beijing. Since then, I've been to various parts of China more than 20 times. So I have very many Chinese friends here. So we're very well adapted and very happy as well," said the ambassador.
Nushirwan arrived in China last August for his ambassadorship. He said since then, he has learned to use WeChat, but mainly to keep in touch with friends.
Article By: Wu Guoxiu
Source: cgtn.com